Shaler Area basketball coach, 65, dies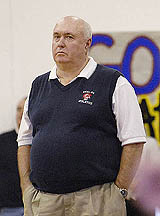 posted 2008-12-12 10:52:52 by grendel





Howie Ruppert, who had begun his 12th season as the boys' varsity basketball coach at Shaler Area High School, died last night of an apparent heart attack, according to school officials.
Ruppert, 65, who was a high school basketball coach for more than three decades and had 581 career wins, had been battling leukemia since the summer of 2007.
Ruppert, also a social studies teacher at Shaler, had a record of 166-113 at the school district. He also was a high school coach at Northgate High School in Bellevue and at St. Peter's in New York.
A former assistant coach at Duquesne and Seton Hall universities, Ruppert coached Shaler's first three games this season and was still teaching.
Shaler officials are still discussing how to go about replacing Ruppert.
Tonight's basketball game against North Allegheny at Shaler and tomorrow's game against Summit Academy in the Harry Jenkins Classic at Fox Chapel have been postponed.