Kenny MacLean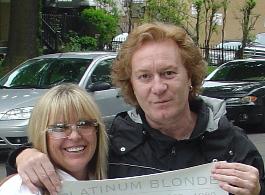 posted 2008-11-26 13:38:35 by grendel





TORONTO (AP) — Kenny MacLean, the bassist for the 1980s band Platinum Blonde, has died. He was 52.
MacLean was found Monday in the bathroom of his downtown Toronto apartment with a toothbrush in his hand and the tap running, drummer and bandmate Chris Steffler said Tuesday.
Steffler said MacLean might have suffered a heart attack. Police said they have no information to suggest MacLean's death was drug-related.
The Scottish musician joined Platinum Blonde for their second album, 1985's "Alien Shores," freeing singer/bassist Mark Holmes to focus on lead vocals.
"Alien Shores" contained one of the band's biggest Canadian hits — "Crying Over You" — and their only U.S. hit, "Somebody Somewhere."
Steffler said Platinum Blonde was planning to get back together this week to rehearse for a reunion gig, the first such performance in two decades.