Lt. Gov. Catherine Baker Knoll dies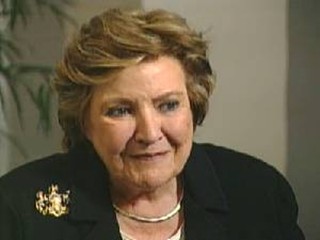 posted 2008-11-12 23:58:21 by stevemay





HARRISBURG -- Lt. Gov. Catherine Baker Knoll, the first woman ever elected to the state's second-ranking post, has died, the governor's office announced tonight.
Mrs. Knoll, 78, had battled a rare form of cancer. She died at 6 p.m. at the National Rehabilitation Hospital in Washington, D.C., according to Mary Isenhour, executive director of the Democratic State Committee.
Gov. Ed Rendell said he and his wife, Midge, "mourn the passing of one of the strongest, most dedicated public servants in Pennsylvania's history."
Even as she was fighting cancer, he said, "she remained upbeat and dedicated to serving the commonwealth. Catherine was a very passionate and exuberant advocate for many worthy causes."
A 40-year veteran of Allegheny County Democratic political wars, Mrs. Knoll served as state treasurer and made a strong third-place finish out of seven candidates in the 1994 Democratic primary for governor.
Eight years later she went on to capture her highest post, lieutenant governor in the Rendell administration.
She was diagnosed with neuroendocrine cancer in July.
The man in line to take over as lieutenant governor, Senate President Pro Tempore Joe Scarnati, R-Jefferson, said Mrs. Knoll "was a tremendous leader for the commonwealth and embodied the type of character expected of true, effective public servants. Her passion and commitment to bettering the lives of Pennsylvanians will be sorely missed, as it was certainly a staple of her public service."
House Majority Leader Bill DeWeese said Pennsylvania "is saying goodbye to a true pioneer, and all those who knew Catherine feel a profound sense of loss this evening. Catherine was a trailblazer among female elected officials and her love for the commonwealth transcended generations. We are all better politicians -- male and female alike -- for having known Catherine Baker Knoll."
U.S. Sen. Bob Casey said "Catherine's life was one of service and sacrifice, courage and commitment to the common good. She was a proud native of Allegheny County, who was elected four times to statewide office, often by record margins.
"She will be remembered for generations because of her work in creating the Tuition Account Program, which has made it possible for tens of thousands of young people to attend college. On a personal note, she was my friend, and I, like many Pennsylvanians will miss her indomitable spirit and her compassion for those without a voice."
One of Mrs. Knoll's three sons, Albert Baker Knoll, said that his mother "fought this illness with the same tenacity she brought to a lifetime of public service. Our mother loved working for the people of Pennsylvania and was proud of the friendship she enjoyed through the commonwealth."
Besides Albert, she leaves sons Dr. Kim Eric Knoll and Charles Knoll, and daughter Mina Baker Knoll. Her husband, Charles Sr., died in 1987.
Funeral arrangements will be announced later by family members.