Yma Sumac, Vocalist of the Exotic, Dies at 86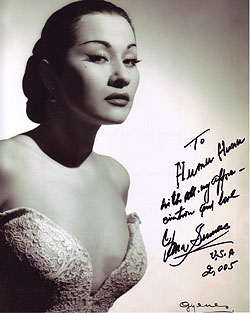 posted 2008-11-05 09:24:29 by DaveM





Yma Sumac, a Peruvian singer who burst on the American scene in the 1950s in a tornado of exotic publicity with a voice that glided preternaturally across four octaves, leading her to top record charts, fill nightclubs and become a cult heroine, died Saturday in Los Angeles. She was 86.
Her death was announced on her Web site, yma-sumac.com. The Associated Press quoted her assistant, Damon Devine, as saying that she had had an eight-month bout with colon cancer. He confirmed that she was born on Sept. 13, 1922, not 1926, 1927 or any other year that has been variously given, almost always making her younger.
What is indisputable is that Ms. Sumac created a sensation as an otherworldly chanteuse who sold millions of records, appeared onstage and in movies, filled European concert halls and fetched $25,000 a performance in Las Vegas. Most critics and musicians heard four octaves in her voice — compared with two for the average singer — though she claimed she could cover five. But few doubted a vocal ability that many experts thought belonged in opera.
"She sings very low and warm, very high and birdlike; and her middle range is no less lovely than the extremes of her scale," Virgil Thomson wrote in The New York Herald Tribune in 1954. "That scale is very close to four octaves, but is in no way inhuman or outlandish in sound."
Her image was pleasantly jolting in what many saw as the staid 1950s. She wore long, heavy braids in her raven hair; traditional Indian costumes; lots of gold and silver jewelry; and exotic makeup. She spoke of jungle animals as musical influences.
The appeal persisted. Many were not surprised at how the Incan Princess became a venerable queen of camp, popping up decade after decade with her unsettling mix of strange sounds, folk roots and a vivacious stage personality. Fans ranged from aficionados of lounge music to rockers attracted by ethereal sounds to lovers of classic pop.
The Tampa Tribune in 1996 suggested that Ms. Sumac's "tribalisms" were perfect for a "space-age bachelor pad."
"It's a South American travelogue scripted by Disney, directed by Dali," the paper said.
The largest and most persistent fabrication about Ms. Sumac was that she was actually a housewife from Brooklyn named Amy Camus, her name spelled backward. The fact is that the government of Peru in 1946 formally supported her claim to be descended from Atahualpa, the last Incan emperor.
But that was not enough for show business publicists. Her first American album, 1n 1950, on Capitol Records was called "Voice of the Xtabay"; the album's liner notes said Xtabay refers to "the most elusive of all women," describing her as "a virgin who might have consumed your nights with tender caresses now seems less than the dry leaves of winter."
The hyperbole grew. The liner notes say 30,000 Indians rioted when their revered singer moved to Lima to pursue larger ambitions. The actual number of protesters, Ms. Sumac told Collier's magazine, was one: her mother. "Mama seem like 30,000," she said in her then-broken English.
The album quickly sold 500,000 copies, and was No. 1 on Variety's best-seller list at the end of 1950, surpassing albums by Bing Crosby and Ethel Merman.
Ms. Sumac was born Zoila Augusta Emperatriz Chavarri del Castillo in the Andes. Different towns are cited in different sources as her birthplace. Her father was part Spanish, her mother a full-blooded Incan.
Ms. Sumac was the last of six children. Incan descent is passed through the youngest child, on the theory that that child most benefits from the experience of others in the family, Fate magazine reported in 1951. She received no formal music lessons.
"The creatures of the forest taught me how to sing," she said in an interview with Newsday in 1989. Her talent became known to Peru's national government, which brought her to Lima to perform. She moved to the United States in 1946, and first played in places like a Greenwich Village delicatessen.
Ms. Sumac first used the name Imma Sumack, then shortened it to the spelling Capitol Records deemed more exotic. Her first breakthrough came with a successful concert in Hollywood Bowl. She soon played Carnegie Hall, flanked onstage by two miniature erupting volcanoes.
Ms. Sumac appeared in the Broadway musical "Flahooley" in 1951, and in several movies, including "Secret of the Incas" (1954) with Charlton Heston. Other albums included "Mambo" (1954) and "Fuego del Ande" (1959).
By the 1960s, with her popularity waning, she made a triumphant tour of the Soviet Union, where its leader, Nikita S. Khrushchev, was a fan, then toured in other parts of Europe and Asia. Her later work included a rock album, "Miracles," in 1971, and a 2005 anthology, "Queen of Exotica."
She twice married and divorced the Peruvian composer and bandleader Moisés Vivanco. She is survived by their son, Charles, and her three sisters.
In 1957, Brooklyn made Yma Sumac — not Amy Camus — an honorary citizen of the borough. The response of the exalted Virgin of the Sun God: "Must all talent come from Brooklyn?"