TV anchor dies days after brutal attack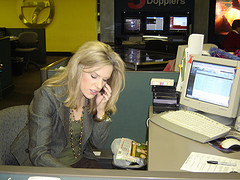 posted 2008-10-26 10:09:38 by grendel





CNN affiliate KATV in Little Rock, Arkansas, said Saturday evening that its morning anchorwoman, Anne Pressly, died. She was 26 years old.
CNN affiliate KATV in Little Rock, Arkansas, announced Saturday evening that its morning anchorwoman, Anne Pressly, died from injuries sustained in an assault.
Anne Pressly, 26, was a popular morning news anchor at KATV in Little Rock, Arkansas.
Pressly, 26, was found beaten early Monday at her home. She was hospitalized and sedated.
Pressly's parents released a statement saying they were "with her in her last moments." They also asked for "the privacy we need at this very difficult time," KATV reported.
Police said Pressly was apparently not targeted but was attacked during the course of a burglary. Her purse was missing.
Pressly was beaten around the head, face and neck. She had been unable to communicate with her family or police while sedated in the intensive care unit.
The anchor's death came only a day after a doctor said he was encouraged by her recovery.
Don't Miss
Intruder beats, stabs TV news anchor
KATV: Anne Pressly, 1982-2008
Dr. Clifton R. Johnson said Friday that swelling in Pressly's brain had gone down since she was hospitalized and that doctors had slowly been reducing her sedative dosages.
Police have yet to identify a suspect, though detectives have combed the area around Pressly's home in the Heights neighborhood, a mix of bungalows and mansions near the Little Rock Country Club.
News reports have said detectives found evidence that Pressly's credit card was used Monday at a gas station a few miles from her home.
On Saturday, KATV opened its nightly news cast with a seven-minute segment devoted to Pressly. Anchor Pamela Smith told viewers that Pressly's family agreed to have their daughter be an organ donor. Smith's voice hitched as she read condolences sent into the station, her eyes red.
"She owned every room she was in, not because she demanded our attention, but because we willingly gave it to her," Smith said. "We all felt a little better, a little more alive just being near her.
"Life was easy for Anne Pressly. But it is her death that is so very hard for all of us."
A reward fund KATV set up to help find the killer or killers has reached $30,000, the station reported on its Web site Saturday night.
No funeral arrangements were immediately announced.
Pressly had a brief role as a TV commentator in Oliver Stone's film "W.," released in theaters earlier in October.