Rangers Prospect Dies After Collapsing in Game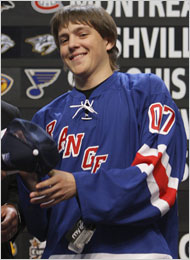 posted 2008-10-15 00:48:01 by doug





For the past year, the Rangers had been hoping Alexei Cherepanov, perhaps the brightest of their future stars, would be a part of their rebuilding this season. A 19-year-old forward with a brilliant smile to match his scoring touch, Cherepanov was the Rangers' first-roundpick in 2007.
They had tried to work out a deal with his Russian team to allow him to come to New York, but in a tragic instant Monday, all the hope and promise was snuffed out as Cherepanov collapsed during a Russian league game and later died.
Cherepanov was stricken during a game in Chekhov, a city just outside Moscow, and died later at a hospital. The Rangers confirmed his death, and Jay Grossman, Cherepanov's North American agent, said he believed the cause was a heart ailment. Grossman and Rangers management said they did not know of any health problems.
The Rangers selected Cherepanov with the 17th pick in the draft last year. He had been expected to go higher, but teams reportedly shied away from picking him because of the eroding relationship between the N.H.L. and the Russian leagues, which has become a barrier to signing some drafted players. Rangers management had been trying to work out a deal with Cherepanov's team, Avangard Omsk of the Continental league, for him to join the Rangers this year. There was no agreement, so Cherepanov was going to spend at least this season in Russia.
"My last conversation with both Jaromir and Wayne was that he was playing really well," Rangers Coach Tom Renney said, referring to Cherepanov's teammate Jaromir Jagr, a former Rangers captain, and Omsk Coach Wayne Fleming. "Jaromir thought he could probably play on our second line right now."
On Monday evening, Omsk was playing a road game against Vityaz in Chekhov. The Russian newspaper Gazeta reported on its Web site that Cherepanov collapsed with three minutes left in the game and that his heart stopped. He was attended to by medical personnel at the game, then brought to a hospital, where he was pronounced dead.
"It doesn't appear there was a triggering event," said Grossman, who said he spoke to other players in the game as well as people attending it. "Obviously it was his heart that just gave way. That is pretty clear."
The crowd was apparently unaware of the seriousness of Cherepanov's condition, and the game resumed after he was moved from the bench after collapsing. A reporter doing a minute-by-minute account of the game for the Web site sportbox.ru noted only that "someone on the Avangard bench is unconscious or ill" and that it was an "incomprehensible situation — a player simply cannot get up from the bench."
Vityaz's rink, the Ice Hockey Center 2004, is a small arena that holds 3,300. Chekhov is a city with a population of 72,000, about 40 miles south of Moscow.
Cherepanov was in his third season with Omsk and was playing this season with Jagr, who told members of Rangers management in a phone call later Monday that he and Cherepanov had left the ice after a shift together when Cherepanov collapsed on the bench.
Renney said he spoke often with Jagr, who spent the previous three and a half seasons with the Rangers, and is also friends with Fleming, the Omsk coach. The Rangers assistant Mike Pelino had taken a trip to Omsk in late August to visit Cherepanov.
"He was very, very engaging as a young man," Pelino said. "He was really excited about the opportunity, when it was going to happen, to get to New York. We went out for dinner with him, myself, Jaromir and a couple of the other guys on the team. He was just full of energy, full of enthusiasm and really excited."
As a rookie in 2006-7, Cherepanov set a Russian Superliga record for goals by a rookie with 18. Last season, he had 13 assists while finishing fourth on the team with 28 points. He played for the Russian national team, which won a bronze medal at the under-20 world championships. He had three goals and three assists in six games.
"He was a great kid and a great player," Grossman said. "It's a shame Rangers fans didn't get to see him here."
Pelino said Cherepanov had improved his play and become much stronger since attending a Rangers development camp after the 2007 draft.
"He said he was really looking forward to the day he could come to New York and play for the Rangers," Pelino said. "One of the nicest stories I heard was when he was 12 years old he left his hometown, moved to Omsk because he wanted to become a hockey player. I was never concerned he wouldn't be able to come to New York and fit right in and become a good player with us."
Jeff Z. Klein contributed reporting.