Ohio Executes "Too Fat to Die" Inmate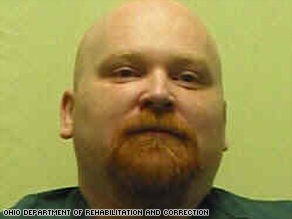 posted 2008-10-14 13:29:52 by grendel





WASHINGTON (CNN) -- An Ohio death row inmate was executed Tuesday after the Supreme Court rejected his last-minute plea that he was too overweight to be put to death.
Richard Cooey, 41, and an accomplice were convicted of the 1986 murders of two college students.
Richard Cooey was pronounced dead at 10:28 a.m. ET, said Andrea Carson, spokeswoman for the Ohio Department of Corrections. The execution went as scheduled, she said, with "no problems whatsoever."
Cooey had exhausted his legal appeals and Gov. Ted Strickland earlier denied the 41-year-old prisoner's clemency petition. Cooey murdered two college students in 1986.
Asked if he had any final words, Carson quoted Cooey as saying, "You haven't paid attention to anything I've had to say for the past 22 years, so why would you think that I would think you're going to pay attention to what I have to say now?"
Earlier Tuesday, the Supreme Court rejected the stay Cooey's attorneys had sought, along with the opportunity to address the larger constitutional claims over when a convicted person is medically unfit for capital punishment. The court was also asked to review whether Ohio's lethal injection procedures amount to cruel and unusual punishment.
Cooey's lawyers maintained that at 5-foot-7 and 267 pounds, he was "morbidly obese" and had gained about 70 pounds since he was imprisoned at age 19. Prison food and confinement in his cell for 23 hours a day, limiting his opportunities for exercise, contributed to his weight problem, his legal team argued.
Cooey also contended regular medication he took for migraines would weaken the effectiveness of an anesthetic used in the three-drug cocktail administered during execution. He said his veins were weakened because of his health issues, and the lethal drugs would constitute cruel and unusual punishment.
A federal appeals court ruled Thursday that Cooey waited too long raise the medical issues, saying he "knew of and could have filed suit over vein access prior to July 2005."