Raymond L. Danner Sr.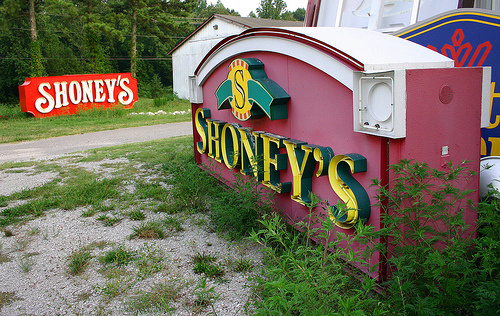 posted 2008-09-02 16:13:34 by MIKE





NASHVILLE, Tenn. (AP) - Raymond L. Danner Sr., a businessman who helped build the restaurant chain Shoney's, has died. He was 83.
Danner died of cancer at his Nashville home Saturday, said Beth Courtney, a spokeswoman working for his firm, the Danner Co.
Raised in Louisville, Ky., the son of a German immigrant started his career by purchasing a small grocery store in his hometown. He retired in 1987 as Shoney's chairman and then formed his own company, Danner Co.
"He said to me one day, he didn't run toward being successful and wealthy," Danner executive vice president Francis Guess told the Tennessean. "He ran away from being poor."
Danner is survived by his wife, two daughters and two sons. Funeral services were scheduled for Wednesday.
Shoney's was started by Alex Schoenbaum in 1947 with one drive-in restaurant in Charleston, W.Va. In 1959, Danner acquired the franchise rights for Shoney's Big Boy and opened his first restaurant in Madison, Tenn.
It merged with Danner Foods of Nashville in 1971 to become Shoney's Big Boy Enterprises and became Shoney's Inc. five years later.
For years, the Nashville-based company was a darling of the restaurant industry and Wall Street, expanding rapidly and diversifying broadly.
At its peak, Shoney's was one of the largest restaurant chains in the world, operating 1,600 stores and producing annual sales that surpassed $800 million.
But by the late 1980s, customers' tastes had grown more sophisticated. As they complained that the quality of Shoney's food and service had declined, so did profits.