Michael Pate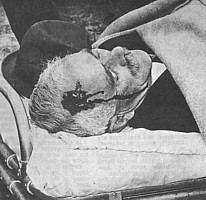 posted 2008-09-02 16:09:52 by MIKE





SYDNEY, Australia (AP) - Australian actor Michael Pate, who appeared in more than 50 films and guest-starred in television shows at home and in the United States, has died of respiratory failure at age 88, health officials said Tuesday.
Born in Sydney in 1920, Pate began his career as a writer and broadcaster for Australian Broadcasting Corp. radio, before moving to the United States.
He spent almost 20 years there, guest starring in various westerns and a number of popular TV shows including "Batman," "Mission: Impossible," "Get Smart" and "The Man from U.N.C.L.E."
ABC quoted an earlier interview with Pate in which he said he had worked with "some marvelous people," including Marlon Brando, David Niven, John Wayne and Randolph Scott.
Pate told ABC he had a reputation in Hollywood for playing Indians in Western movies.
"It was very unusual for a white (person) to be playing Indians or Mexicans or cowboys in any case. It was very unusual for an Australian over in America to be doing it," he said.
Pate returned to Australia in the late 1960s to act, write and direct. From 1971, he starred in the Australian crime drama "Matlock Police," for which he won a Penguin Award for best actor.
He also won two Logie Awards — Australian television awards — for television production and adapted the award-winning screenplay for the movie "Tim," starring Mel Gibson.
Pate costarred with his son, Christopher, in the play "Mass Appeal," which toured Australia from 1982 to 1984.
Family friend Jacqui Bosanac told ABC that Pate had been working on a film script before he died and that his son would likely finish it.
Pate is also survived by his wife, actress Felippa Rock, and a number of grandchildren and great-grandchildren