Tad Mosel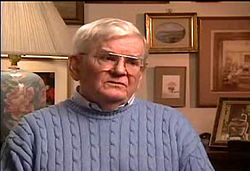 posted 2008-08-29 15:29:34 by MIKE





CONCORD, N.H. (AP) — Tad Mosel, television screenwriter and author of the Pulitzer Prize-winning drama "All the Way Home," died Sunday. He was 86.
Mosel wrote TV screenplays beginning in the late 1940s and into much of the '50s, a period often called the Golden Age of television. Among the shows he worked on were "Playhouse 90," "Studio One" and "Producers' Showcase."
In November 1960, "All the Way Home," Mosel's stage adaptation of James Agee's autobiographical novel "A Death in the Family," opened on Broadway to critical acclaim, running for more than 300 performances and winning the 1961 Pulitzer Prize for drama.
The production, directed by Arthur Penn, featured Colleen Dewhurst, Lillian Gish and Arthur Hill. Set in 1915, it chronicled the struggles of a Tennessee family after the father is killed in an auto accident.
Mosel also wrote several movies including "Dear Heart" (1964), starring Glenn Ford and Geraldine Page, and "Up the Down Staircase" (1967), based on the Bel Kaufman best seller about big-city schools, which starred Sandy Dennis.