Triathlete dies after bike crash in Santa Barbara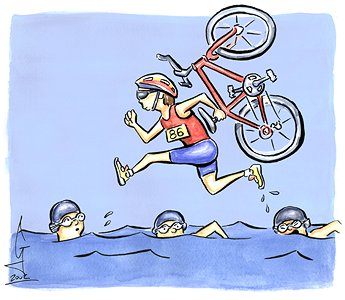 posted 2008-08-29 15:18:03 by MIKE





SANTA BARBARA, Calif. - Barbara Warren, one of the world's elite endurance athletes in her age group and one-half of a well-known pair of triathlete twins, has died after breaking her neck in a bike crash at the Santa Barbara Triathlon. She was 65.
Warren, of San Diego, died Tuesday at Santa Barbara Cottage Hospital when her family told doctors to take her off a ventilator, her twin sister Angelika Drake told the San Diego Union-Tribune.
Warren crashed her bike on a downhill road about halfway through the 34-mile cycling section of the race on Saturday, race director Joe Coito said.
Warren was paralyzed from the neck down and was breathing with the aid of the ventilator. Drake said her sister told the family by blinking and nodding that she wanted to die.
"I talked to her and she nodded over and over and over again. She wanted to leave," Drake said. "No athlete would like to have a life with only their eyes talking."
Warren's two daughters and her husband Tom were also with her at the hospital when she died.
Warren won her age group in the 2003 Ironman Triathlon World Championship in Hawaii. She competed in the race, the world's top triathlon, 13 times and finished in the top five in her age group eight times.
The two sisters alternated riding bikes in the Race Across America, covering 2,983 miles in less than 10 days.
Warren also competed in a seven-day race across the Sahara Desert, and finished a triple Ironman in France that included a 7.2-mile swim, 336-mile bike ride and 78.6-mile run.
Warren was well-loved among younger triathletes.
Michellie Jones, who won a triathlon silver medal in the 2000 Olympics and won the 2006 Ironman World Title, was also a twin who remembered her fondly.
"She always asked about my sister," Jones said. "She understood the bond."
Warren's twin said she lay next to her sister as she died.
"My heart and my soul are gone," Drake said. "She was everything in my life."