Ex-Steeler Elter called career 'a dream come true'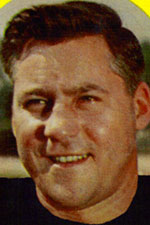 posted 2008-08-26 10:52:16 by stevemay





Leo "Ducky" Elter of Shaler died of heart failure on Saturday, Aug. 23, 2008. He was 78.
Mr. Elter, the son of the late William and Elizabeth Elter, was born and raised in Shaler. He played on the Shaler High School football team in the 1940s, then went on to play running back for Duquesne University. After the school's team disbanded for a short time, he transferred to Villanova University.
Mr. Elter enlisted in the Marines, where he was recruited to play for the Parris Island Marines' football team. His son, Leo Elter of Hampton, said Mr. Elter had to go through basic training with the other recruits, then head to football practice.
Upon his discharge, he was signed by Art Rooney Sr., founder of the Pittsburgh Steelers. During his seven-year NFL career, Mr. Elter played four seasons with the Steelers (1953-54 and 1958-59) and three with the Washington Redskins (1955-57), rushing for a total of 1,380 yards.
"He said it was a dream come true," his son said. "Art told him he had a lot of potential, but wanted him to go somewhere he would be utilized. As soon as he had room for him, Art wanted him back."
With the Steelers, Mr. Elter played on offense and defense, his son said.
"Back then, you only got paid when you played. Back then, you got a refrigerator for playing in the Pro Bowl. They couldn't wait, because that extra little bit was helpful to the guys with a family."
Mr. Elter made the Pro Bowl with the Redskins in 1956.
After leaving football, Mr. Elter worked at the Allegheny County Workhouse in Blawnox and coached the inmates' football team. He then moved on to warehouse work for Nordic Fisheries in the Strip District and helped a daughter learn the profession.
"He was my buddy and taught me how to ride a forklift," said Colleen Belenis of Cranberry. "He was always looking at his lunchbox to see what homemade goodies Mom would put in."
He got his nickname as a child, when he would play in Pine Creek, Skeel said.
Mr. Elter was described by his children as an "armchair quarterback."
"Most kids learn 'no' as their first lesson, but we learned 'get away from the TV,'" Leo Elter said. "My wife and I took my parents on a trip to Hawaii years ago, and walking back from dinner one night, Dad looked at his watch and told us he was going back to the hotel. He didn't want to miss the scrimmage game on television, even out in Hawaii. He ate, drank and slept football."
In addition to his daughters and son, Mr. Elter is survived by his wife, Olga Mykicz Elter; four grandchildren and two great-grandchildren.
He was preceded in death by 10 siblings.