Report: Gene Upshaw, 63, dies of cancer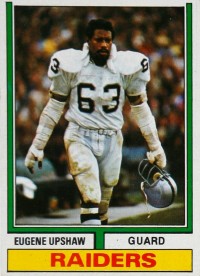 posted 2008-08-21 09:45:27 by MIKE





NFL Players Association executive director Gene Upshaw has died at age 63, according to a report.
Clear Channel Online, citing anonymous sources, reports Upshaw, died of pancreatic cancer. NFL Network's Adam Schefter, speaking on Sirius XM's NFL Radio, confirmed the report.
Creating confusion, NFL Radio reported NFLPA director of communications Carl Francis could not confirm the report and was not aware Upshaw was suffering from pancreatic cancer.
Uphaw was vacationing in Lake Tahoe with his family when he died, NFL Network reported.
Upshaw, through his involvement with the NFLPA as a player and as executive director, played a major role in the collective bargaining agreeements of 1977, 1982 and 1993, as well as extensions of the CBA in 1998, 2002 and 2006.
Upshaw was a seven-time Pro Bowl selection and an 11-time All-Pro. He was inducted into the Pro Football Hall of Fame in 1987. He is survived by his wife, Terri, and sons, Justin, Daniel and Eugene Jr.