Zambia President Levy Mwanawasa is Dead at Age 59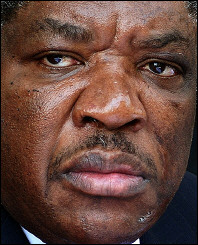 posted 2008-08-19 09:40:07 by stevemay





Zambian President Levy Mwanawasa has died in a French hospital, where he was being treated after suffering a stroke in late June.
Zambia's vice president and Mr. Mwanawasa's family members say he died early today (Tuesday).
The 59-year-old Zambian leader suffered a stroke in Egypt on June 29th, on the eve of an African Union summit. He was flown to a Paris military hospital in early July.
Mr. Mwanawasa had served as the southern African country's president since January 2002. He suffered a mild stroke in 2006 before being re-elected that year.
He was also the leader of the Southern African Development Community.