Dottie Collins, 84, Star Pitcher of Women's Baseball League, Dies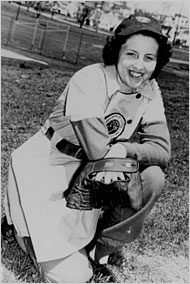 posted 2008-08-17 18:16:49 by stevemay





Dottie Collins, who was a star pitcher in women's professional baseball in the 1940s and later played a major role in preserving the history of the women's game, died Tuesday in Fort Wayne, Ind. She was 84.
The cause was a stroke, said her son-in-law, Michael Tyler.
Pitching for six seasons in the All-American Girls Professional Baseball League, created in 1943 to provide home front entertainment while many major leaguers were off to war, Collins dazzled opposing batters.
She pitched underhand, sidearm and overhand; she threw curveballs, fastballs and changeups; and in the summer of 1948, she pitched until she was four months pregnant. She won more than 20 games in each of her first four seasons. She threw 17 shutouts and had a league-leading 293 strikeouts in 1945 for the Fort Wayne Daisies, when the women's game resembled fast-pitch softball.
But Collins's greatest contribution to women's baseball may have come when its ball clubs had long been forgotten.
The Baseball Hall of Fame in Cooperstown, N.Y., had been considering an exhibition on women and baseball during the mid-1980s, but, as Ted Spencer, its chief curator, recalled in an interview, it had little material to display until Collins approached him.
"When I connected with Dottie, the ball started to roll," Spencer said. "If it wasn't for her, I don't know where it would have gone."
In 1987, Collins helped form an association of former players in the All-American league. She drew on her contacts to provide the Hall of Fame with memorabilia from the league, spurring creation of its Women in Baseball exhibit in 1988. Now an enlarged, permanent collection, the exhibit inspired the 1992 Hollywood movie "A League of Their Own," a reprise of women's pro baseball during World War II ("Are you crying, there's no crying in baseball!")