Don Helms, 81, Who Put the Twang in the Hank Williams Songbook, Is Dead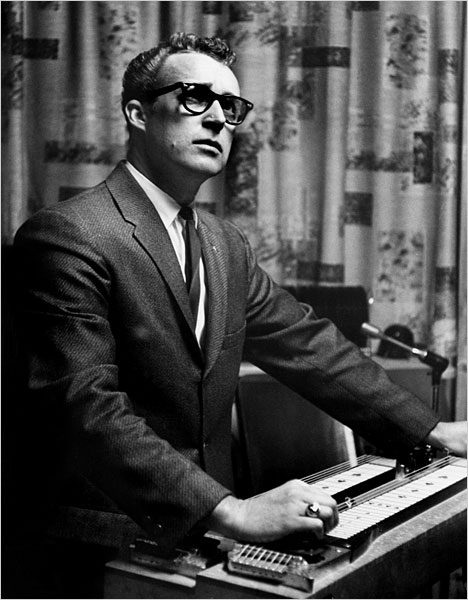 posted 2008-08-17 18:14:24 by stevemay





Don Helms, whose piercing, forceful steel guitar helped define the sound of nearly all of Hank Williams's hits, and who performed and recorded with a long list of other country greats, died Monday in Nashville. He was 81 and lived in Hendersonville, Tenn.
The cause was complications of heart surgery and diabetes, said Marty Stuart, a friend and fellow performer.
Mr. Helms played on more than 100 Hank Williams songs and on 10 of his 11 No. 1 country hits. He provided the dirgelike, weeping notes in songs like "I Can't Help It (If I'm Still in Love With You)" and "I'm So Lonesome I Could Cry" and added a catchy, propulsive twang to up-tempo numbers like "Jambalaya (On the Bayou)" and "Hey, Good Lookin.' "
"After the great tunes and Hank's mournful voice, the next thing you think about in those songs is the steel guitar," said Bill Lloyd, the curator of stringed instruments at the Country Music Hall of Fame and Museum. "It is the quintessential honky-tonk steel sound — tuneful, aggressive, full of attitude."
After Williams died in 1953, Mr. Helms embarked on a long career as a performer and songwriter. His guitar can be heard on the Patsy Cline hit "Walking After Midnight," Stonewall Jackson's "Waterloo," the Louvin Brothers' "Cash on the Barrelhead," Lefty Frizzell's "Long Black Veil" and Loretta Lynn's "Blue Kentucky Girl."
Donald Hugh Helms was born in New Brockton, Ala., and grew up on the family farm. As a boy, he listened to the Texas swing music of Bob Wills and the Texas Playboys, whose steel guitar player, Leon McAuliffe, was a big influence, as was a local player, Neal McCormick.
At 15, he got his first steel guitar, a Sears Silvertone that was held flat on the lap, unlike the table-style steel guitars he would later play. Since the farmhouse had no electricity, he played the instrument over a washtub to make it resonate.
While still a teenager, Mr. Helms became a member of the Drifting Cowboys, the backup band for Williams, then a local radio star who performed in small clubs and roadhouses. Mr. Helms enlisted in the Army in 1945 and by the time he was discharged two years later, Williams had signed a record contract and was on his way to perform as a regular on "Louisiana Hayride," a Shreveport, La., radio show broadcast all over the South.
Mr. Helms stayed put in Alabama, where he had steady performing work, but after Williams joined the Grand Ole Opry in 1949 and created a sensation with his first No. 1 hit, "Lovesick Blues," he became part of the new edition of the Drifting Cowboys that Williams put together in Nashville.
He was the last surviving member of that ensemble.
In 1945, he married Hazel Cullifer, who survives him, as do his two sons, Frank and Marc; two brothers, Glenn and Ted; three grandchildren; and five great-grandchildren.
Initially, Mr. Helms played a Fender eight-string double-necked guitar, but in 1950 he acquired the Gibson Console Grand that most listeners associate with Williams's hits. Later he would play a pedal steel guitar, but he kept the Gibson under his bed, pulling it out for special occasions.
The rough-hewn sound of the pre-pedal steel guitar suited Williams's bluesy vocals. At the suggestion of the record producer Fred Rose, Mr. Helms favored the treble strings and played high on the neck, producing a penetrating sound that could cut through the background noise of the bars, honky-tonks and roadhouses where Williams's records were most often heard
The Helms sound, said Mr. Lloyd of the Country Music Hall of Fame, helped move country music away from the hillbilly string-band accompaniment popular in the 1930s and toward the more modern electric style that took over in the 1940s.
"His tuning, and the way the tuning made the tone high-pitched, matched Hank Williams's style just perfectly," said DeWitt Scott, the founder of the Steel Guitar Hall of Fame, which inducted Mr. Helms in 1984.