Robert Hazard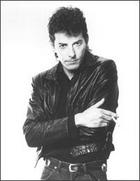 posted 2008-08-07 09:46:08 by mike





PHILADELPHIA (AP) - Robert Hazard, a songwriter and musician from Philadelphia who wrote the 1983 Cyndi Lauper hit "Girls Just Wanna Have Fun," died Tuesday. He was 59
Hazard died after a brief illness, his record label, Rykodisc, said in a statement.
Hazard's wife, Susan, told The Philadelphia Inquirer her husband died unexpectedly after surgery at Massachusetts General Hospital in Boston.
Hazard, born Robert Rimato, led the band Robert Hazard and the Heroes, a fixture in Philadelphia clubs through the mid-1980s. In his 1983 autobiography, he wrote that he got his big break in 1982 when music journalist Kurt Loder, who was in town to review a Rolling Stones concert, happened to stop into a bar where he was performing.
His song "Escalator of Life" became a hit soon after.
Recently, he has played country music with a band called The Hombres. His latest album, "Troubadour," was released in October.
In recent years, Hazard and his wife ran an antique shop near their home in Old Forge, N.Y.