Skip Caray, 68, Atlanta Braves Voice Known for His Biting Wit, Is Dead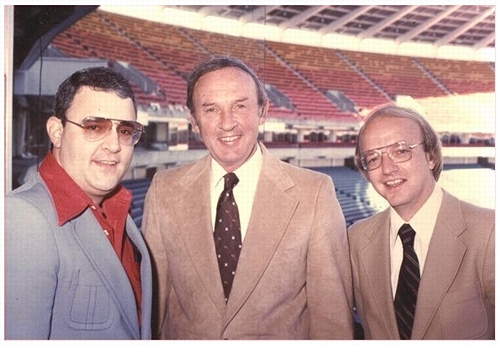 posted 2008-08-06 10:59:36 by stevemay





Skip Caray, a sportscaster whose nasal tone and sometimes playful, sometimes sardonic commentary on radio and television made him familiar to fans as the voice of baseball's Atlanta Braves, died Sunday at his home in Atlanta. He was 68.
His death was announced by the Braves. The cause was not given, but Mr. Caray had diabetes and liver problems and had been in declining health for several months, which had limited his announcing schedule this season.
Mr. Caray was the middleman in a three-generation line of baseball broadcasters. His father, Harry, who died in 1998, was a Hall of Famer, the legendary voice of the Chicago Cubs. His son Chip Caray was Harry's replacement in Chicago from 1998 to 2004 and is currently a Braves broadcaster as well as a TBS announcer on nationally televised games. On May 13, 1991, the three Caray men shared a broadcast booth for a Cubs-Braves game. A fourth Caray, Chip's brother, Josh, is the play-by-play man for the Braves' minor league team in Rome, Ga.
Family ties notwithstanding, Skip Caray was a distinct presence as a broadcaster. Unlike his father, who made no secret of his unabashed home-team bias, Mr. Caray, though an acknowledged Braves fan, was equally likely to criticize as to praise. He was known for his jokiness (among his favorite ploys was to announce the names and hometowns of fans who caught foul balls, even though he had no clue who they were) and for his occasionally cutting humor. During a dull or hopelessly lopsided game, he sometimes would give his viewers or listeners permission to turn off the broadcast as long as they promised to patronize its sponsors; or lament, when the Braves' pitchers had walked too many, that not only were bases loaded, "but I wish I was, too."
"In an industry predicated on likeability, he really didn't care if you liked him or not," Mark Bradley of The Atlanta Journal-Constitution wrote in an appreciation. "He said what he thought ... and if he happened to ruffle the tender sensibilities of listeners or management, well tough."