Lou Teicher, of Ferrante & Teicher, Popular Piano Duo of '60s, Dies at 83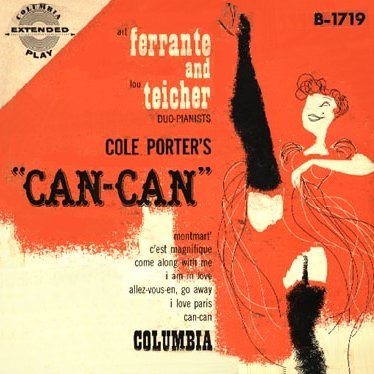 posted 2008-08-06 10:58:01 by stevemay





Lou Teicher, half of the piano duo Ferrante & Teicher, whose florid and sentimental versions of movie themes and love songs made them gods of easy listening and earned them wide popularity beginning in the 1960s, died on Sunday in Highlands, N.C. He was 83 and lived in Sarasota, Fla.
Lou Teicher, at right, with Arthur Ferrante in 1964. Their florid arrangements made them reigning princes of easy listening.
The cause was heart failure, said Scott W. Smith, Ferrante & Teicher's manager.
A classically trained pianist who was something of a prodigy, Mr. Teicher was a musician of extraordinary dexterity, the speed and clarity of his and his partner's playing being among their crowd-pleasing qualities. The two met as children at the Juilliard School of Music, and their friendship became a professional team in the mid-1940s. Eventually, with their hit recordings of the themes from the films "The Apartment" and "Exodus," and "Tonight," from "West Side Story," among others, they became known as "the movie theme team." And for their appearances onstage or on television in matching flashy outfits and at the keyboards of imposing instruments, they were called "the grand twins of the twin grands."
Louis Milton Teicher was born in Wilkes-Barre, Pa., on Aug. 24, 1924. By the time he was 6, his family was living in New York City, and young Lou was enrolled at Juilliard. His future partner, Arthur Ferrante, then 9, was already there. Mr. Teicher graduated in 1940 and received an advanced degree in 1943. Both he and Mr. Ferrante joined the faculty. They began performing together in 1947, initially as a purely classical duo.
Eventually, of course, they became famous for a kind of virtuosic kitsch: grandiose, emotional playing, embellished with glissandi, spectacular arpeggios and a back-and-forth communication that often made it seem as if the pianos themselves were conversing.
"Although we were two individuals, at the twin pianos our brains worked as one," Mr. Ferrante, now 86, said in a statement after Mr. Teicher's death.