Christopher Gonzalez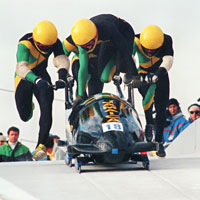 posted 2008-08-05 15:58:04 by MIKE





KINGSTON, Jamaica (AP) - Christopher Gonzalez, whose expressionistic sculptures and paintings earned him a reputation as a pioneer in Jamaican art, has died, according to a longtime family friend. He was 65
The acclaimed Jamaican artist died Saturday at Cornwall Regional Hospital in Montego Bay of cancer, said Kay Osbourne, managing director of Television Jamaica.
Gonzalez, born in 1943 in the central parish of Manchester, is best known for creating a controversial 9-foot (2.7-meter) statue of reggae legend Bob Marley, which is housed at a museum in Ocho Rios.
The bronze statue, which depicted the beloved Jamaican musician with a distorted face and a tree trunk for a lower body, was pelted with rocks and fruit at its 1983 unveiling in Kingston on the second anniversary of Marley's death. Angry reggae fans said Gonzalez's abstract statue bore little resemblance to the songwriter.
Gonzalez, a graduate and former faculty member of the Jamaica School of Art, also was known for two bronze reliefs commemorating the island's independence and his work on the tomb of the country's first prime minister, Norman Manley.
Gonzalez is survived by his wife, Champayne Clarke-Gonzalez, and six children, according to Radio Jamaica.