Randy Pausch, author of The Last Lecture, dies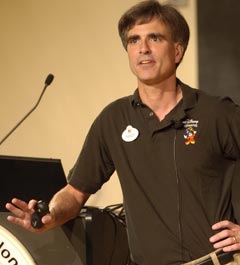 posted 2008-07-25 15:27:59 by GRENDEL





Randy Pausch, the computer science professor who rose to fame after giving a quirky last lecture about celebrating life in the face of his terminal cancer, died Friday.
The 47-year-old died at his home in Chesapeake, Va., according to Wall Street Journal columnist Jeffrey Zaslow, who helped launch Pausch to fame after writing about the speech — which also garnered widespread attention when it was posted on video sharing site YouTube.
When Pausch was offered a deal to write a book expanding on his lecture, Zaslow co-authored the non-fiction title. The Last Lecture became a bestseller.
"It was the most fun 53 days of my life because it was like a performance," Zaslow said. "It was like getting 53 extra lectures."
A pioneer in the field of virtual reality who became a professor at his alma mater, Carnegie Mellon University, Pausch also co-founded the school's Entertainment Technology Center and developed programs to make teaching computer science and animation more fun for high school and post-secondary students.
He also helped develop the Alice 3D-animation software and had stints at Walt Disney and Electronic Arts.
He was diagnosed with incurable pancreatic cancer in September 2006.
A year later, Pausch took part in a lecture series at the university that saw professors give hypothetical final talks and speak about what mattered most to them.
The popular and flamboyant Pausch drew a packed crowd for his light-hearted session, dedicated to his children.
He joked about his realized and unrealized childhood dreams and urged people to have more fun and live life to the fullest.
Aside from the book deal and internet interest, he was invited to visit The Oprah Winfrey Show and make other TV appearances. He also maintained a blog that delivered updates on his life.
Pausch is survived by his wife, three children, his mother and his sister.