"World's Oldest Blogger" Dies at 108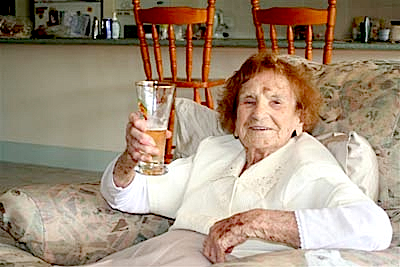 posted 2008-07-14 12:17:05 by grendel





An Australian woman often described as the world's oldest blogger has died
at the age of 108 after posting a final message about her ailing health but
how she sang "a happy song, as I do every day."
Olive Riley wrote 74 entries in her blogs, firstly
http://www.allaboutolive.com.au
and later
http://worldsoldestblogger.blogspot.com
. A friend introduced Riley to blogging early in 2007, and was hooked.
Riley "passed away peacefully on Saturday, July 12," a posting on her Web site said. No cause of death was given. "She will be mourned by thousands of Internet friends and hundreds of descendants and other relatives."
She entered a nursing home in Woy Woy, 50 miles north of Sydney, last month, from where she blogged about having a bad cough and feeling weak.
In her last entry, on June 26, Riley thanked supporters for "a whole swag of e-mails and comments from my Internet friends" and described meeting a new friend in the bed next to her.
"She and I sang a happy song, as I do every day, and before long we were joined by several nurses, who sang along too. It was quite a concert!" she posted.
Great-grandson Darren Stone said Riley loved being able to stay in touch with correspondents all over the world and said she believed it kept her mind active.
"It was mind blowing to her," Stone said. "She had people communicating with her from as far away as Russia and America on a continual basis, not just once in a while."
Born in the remote mining town of Broken Hill in 1899, Riley blogged regularly in the last year of her life about growing up in the Outback, raising three children and working as a farm cook and bartender earlier in her life.