Murphy Martin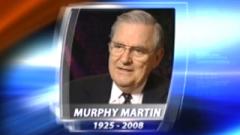 posted 2008-07-09 02:09:31 by GRENDEL





DALLAS (AP) — Murphy Martin, a former anchor and reporter for ABC News who covered the Selma voting rights march in 1965, died Thursday. He was 82.
He died after a long illness, just one hour shy of his 83rd birthday, WFAA-TV in Dallas reported on its Web site.
Martin worked at WFAA in the early 1960s and went on to be an anchor and reporter at ABC News in New York. Martin returned to WFAA in the early '70s.
He covered the Rev. Martin Luther King Jr. while working as a correspondent for ABC in the 1960s and also provided news coverage immediately following the assassination of President Kennedy.
Martin met King while covering a march to integrate beaches at St. Augustine, Fla. He eventually anchored ABC's live network coverage at the end of the Selma-to-Montgomery voting rights march in 1965, according to Martin's Web site.