Canucks defenseman Bourdon killed in a motorcycle crash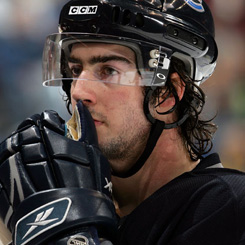 posted 2008-05-29 16:28:23 by mike





SHIPPAGAN, N.B. -- Luc Bourdon, a promising rookie defenseman with the Vancouver Canucks, was killed Thursday in a motorcycle crash near his hometown. He was 21.
Bourdon's sister, Eve Bourdon, confirmed the death but declined further comment when reached at the family's home in Shippagan.
"Luc was a winner; he was a competitor," said Kent Hughes, his agent. "There was no quit in him. He persevered through a lot. He was a great guy and a great teammate."
Police in Shippagan wouldn't confirm the identity of the victim but said a motorcyclist was killed in the early afternoon on a road between Shippagan and Lemeque. A report said Bourdon lost control of his motorcycle before hitting a tractor-trailer.
Bourdon was the first-round draft pick of the Canucks in 2005, selected 10th overall. He split time this season with the Canucks and the Manitoba Moose of the American Hockey League. In 27 games with the Canucks, he scored twice and had no assists.
He was a member of the Canadian team that won the gold medal at the 2007 world junior hockey championship in Vancouver and made the tournament's all-star team. He helped Canada win another gold at the 2007 tournament in Sweden.