Former MLB pitcher Gonzalez killed by lightning strike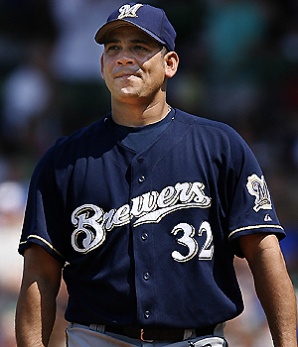 posted 2008-05-26 17:27:56 by arnoldam





CARACAS, Venezuela -- Former major league pitcher Geremi Gonzalez, who won 11 games for the Chicago Cubs in 1997, was killed by a lightning strike in his native Venezuela on Sunday. He was 33.
Emergency management official Herman Bracho said Monday that Gonzalez was struck by lightning at a beach.
On Monday, Cubs general manager Jim Hendry spoke fondly of Gonzalez.
"The Chicago Cubs are very saddened today to learn of Geremi Gonzalez's sudden passing. Geremi began his career as a Cub, leading our pitching staff with 11 wins as a rookie in 1997 and, despite an arm injury, helping the club early in the season a year later to an eventual postseason appearance. The organization sends its heartfelt condolences to his family."
Gonzalez pitched for five major league teams from 1997-2006. The right-hander appeared in 131 games with 83 starts, compiling a 30-35 record.
Gonzalez also played for the Tampa Bay Rays, Boston Red Sox, New York Mets and Milwaukee Brewers. He made a combined 24 appearances for the Mets and Brewers in his final major league season in 2006.
The Toronto Blue Jays released him during spring training last year. Gonzalez then moved to Japan and pitched in five games for the Yomiuri Giants.