FARC leader is dead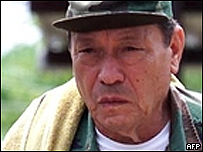 posted 2008-05-25 01:58:47 by arnoldam





The leader of Colombia's largest leftist rebel group is dead, a spokesman for the nation's defense ministry said Saturday.
Pedro Antonio Marin, known as Manuel Marulanda Vilez and nicknamed Tirofijo, is believed to have died of a heart attack, ministry spokesman Juan Manuel Santos said.
"He must be in hell," Santos told a reporter from Semana magazine.
Marulanda, who was believed to be in his late 70s, has led the Revolutionary Armed Forces of Colombia, or FARC, for decades.
"The information that we have is that he has gone already," he added. Asked whether he was saying that Marulanda had died, Santos said, "That's what a source who has never failed us tells us."
Speaking later, Colombian President Alvaro Uribe stopped short of saying Marulanda is dead, but he also said that the news comes from a reliable source.
Don't Miss
* Colombian official urges inquiry based on laptop info
* FARC commander gives up, calls for dialogue
"I hope so," he said of Marulanda's reported death.
Santos said that the Colombian military had bombed three areas where Marulanda was believed to be around the time of his death but that the fighting was not believed to have killed him.
Santos said Marulanda may have been replaced as leader by Alfonso Cano, a longtime ideologue for the group.
Uribe, who was speaking at a town hall-style meeting, also said his government is creating a reward fund of up to $100 million for rebel soldiers who leave FARC.
He also said he's working on a way to grant former rebels what he called "conditional freedom" -- suggesting that they'd receive some form of amnesty for criminal acts.
The president said his government has been contacted by FARC members who apparently want to leave the group but fear for their safety.
He did not say whether the fighters were high-level or rank-and-file members, but said they had expressed a willingness to release some of the hundreds of hostages that FARC is believed to be holding in the jungles along the border of Colombia and Ecuador.
Established as the military wing of the Colombian Communist Party in 1964, FARC is Colombia's oldest, largest and best-equipped Marxist rebel group, according to the U.S. Department of State. Several nations, including the United States, classify it as a terrorist group. FARC has been embroiled in a complex guerilla conflict with the Colombian government and right-wing paramilitary groups working in tandem with the government.
The group has defended the taking of hostages, including ailing former presidential candidate Ingrid Betancourt, as a legitimate technique in the conflict, although nations including the United States consider it a terrorist organization.
As the group's leader, Marulanda was the ultimate decision maker who decided to approve the FARC's expanded efforts into cocaine trafficking, according to the U.S. State Department.