Lloyd Moore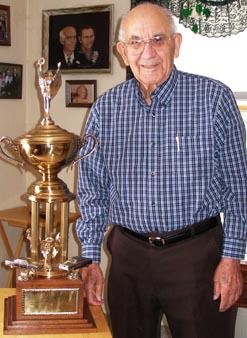 posted 2008-05-22 13:59:10 by mike





FREWSBURG, N.Y. (AP) - Lloyd Moore, a NASCAR winner in 1950 and the oldest former driver, has died. He was 95.
Moore died Sunday in his sleep in Frewsburg, said James Bailey, Moore's son-in-law.
Moore won his lone NASCAR title in Winchester, Ind., and finished fourth in the 1950 standings. He drove from 1949-55 in the Grand National series against Lee Petty, Glenn "Fireball" Roberts and other contemporaries.
He made his NASCAR debut on Oct. 2, 1949, at Heidelberg Raceway in Pittsburgh, finishing sixth behind Lee Petty. His final start came on Sept. 5, 1955, at Darlington, S.C. He finished 24th in a 69-car field that included winner Herb Thomas, Everett "Cotton" Owens, Roberts and Petty.