Richard Towne "Dick" Sutcliffe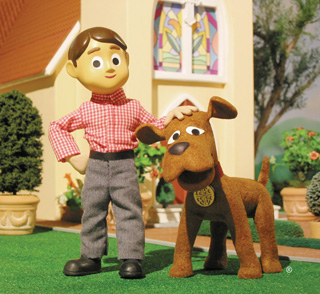 posted 2008-05-21 10:17:35 by grendel





DALLAS (AP) — Richard Towne "Dick" Sutcliffe, creator of the popular religious children's television show "Davey and Goliath," died May 11. He was 90.
He died in Dallas of complications from a stroke, according to the St. Mark's School of Texas, where the memorial service will be held.
Sutcliffe created "Davey and Goliath," a Christian-themed children's show about a boy and his talking dog that used stop-action animation.
Along with Gumby creators Art Clokey and Ruth Clokey Goodell, Sutcliffe created the Sunday-morning series to spread a religious message without losing younger viewers with overly complicated concepts, his daughter, J.T. Sutcliffe, told The Dallas Morning News.
Church leaders approached Sutcliffe about using television to reach young people when he was director of Lutheran radio and television ministry in New York. He chose a format that would offer sound theology while being entertaining, his daughter told the newspaper.