Nuala O'Faolain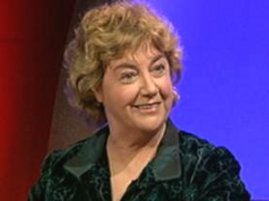 posted 2008-05-14 13:53:10 by mike





DUBLIN, Ireland (AP) - Nuala O'Faolain, a journalist and feminist who gained international fame with her outspoken 1996 memoir "Are You Somebody?" has died at age 68 of lung cancer - just weeks after shocking the nation by announcing news of her illness on state radio.
She died Friday at a hospice in south Dublin and will be cremated Tuesday after a Catholic Mass.
O'Faolain emphasized during her April 12 interview that she had no faith in the afterlife, and instead rued the imminent loss of her lifetime's accrual of education, friends and experience.
O'Faolain, who was a University College Dublin lecturer in literature before becoming one of Ireland's best-known journalists, said the lung cancer had spread to her liver, and brain tumors had ruined her ability to concentrate.
"Beauty means nothing to me anymore. I tried to read (Marcel) Proust again recently, but it has gone - the magic has gone. It amazed me how quickly my life turned black," she said in the wide-ranging, deeply reflective interview with state radio RTE.
The broadcast inspired a national discussion about how Ireland cares for its terminally ill and a wave of sympathy toward O'Faolain over her uncompromising account of her own desolation.
O'Faolain dismissed the idea of Heaven awaiting her. "I can't be consoled by the mention of God. I wish everyone comfort for those who believe, but I cannot. To me it's meaningless," she said.
O'Faolain said she was consoled only by the knowledge that so many other people died in much more horrific circumstances.
"In my time, which is mostly the 20th century, people have died horribly in Auschwitz, in Darfur, or are dying of starvation or dying multiply raped in the Congo ... horribly like that. I think how comfortably I am dying, I have friends and family, I am in this wonderful country, I have money," she said.
"There is nothing much wrong with me, except I am dying."
O'Faolain worked as a television producer and reporter for the British Broadcasting Corp. and RTE, and gained a national readership as an Irish Times columnist starting in the mid-1980s.
She became a best-selling author on both sides of the Atlantic in 1996 with the publication of "Are You Somebody?" It was initially intended to be a collection of her Irish Times columns, but evolved into an unusually intimate, even risque memoir.
In it she recounted her tough family upbringing with a philandering father and alcoholic mother, descent into her own alcohol abuse, and lifetime struggle to attain professional, social and sexual fulfillment.
The book, which initially had a print run of just 1,500 copies, touched a particular nerve among adult female readers because of its exploration of the soul-searching of a middle-aged, unmarried, childless woman. It caused headlines at home because of her candid admission to having a lengthy lesbian affair with a prominent Irish journalist, later identified as Northern Irish civil rights activist Nell McCafferty.
The memoir's U.S. popularity transformed O'Faolain into a celebrity winner of hefty book advances. She published three more books: the novel "My Dream of You" in 2001, a second volume of memoirs titled "Almost There" in 2003, and the biography "The Story of Chicago May" in 2005.
In February, O'Faolain suffered partial loss of movement on one side after working out in a New York gym. Later that day, she recalled in her RTE interview, a doctor told her she had inoperable cancer.
O'Faolain declined chemotherapy after a few emotionally agonizing sessions and instead traveled Europe with the help of close friends until the disease confined her to a nursing home.
At the time of her cancer diagnosis, she had been offering weekly RTE radio commentary on the U.S. presidential race from her second home in New York City.
O'Faolain had several longtime relationships, with McCafferty and with prominent male artists and intellectuals, but never married or had children, a frequent theme in her writing. She is survived by five sisters and a brother, while two other brothers predeceased her.