Country Music Legend Eddy Arnold Dies At 89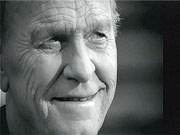 posted 2008-05-08 11:47:26 by grendel





NASHVILLE, Tenn. - The legendary country crooner that Billboard Magazine ranked the number one country artist of all time, Eddy Arnold, died at the age of 89 at 4:40 a.m. on Thursday at an assisted living facility in Franklin, Tenn.
Richard Edward Arnold grew up on the family farm in Henderson, Tenn., where he rode a mule to his first singing engagements.
When Arnold turned 11 years old his dad died, and the family soon lost the farm. In the depression-era South, the boy became a man, and Arnold's golden voice became his ticket to the world.
"I came off the cotton farm never dreaming that I would ever have a long life in this business that I've had," Arnold said during an interview just a few months before his death.
The Tennessee Plowboy's big break came in 1940 when he began singing regularly on the Grand Ole Opry.
Arnold also became the first country music star to host his own TV show, with other shows and top hits following. In his long musical career he had 92 Top 10 hits, including the early classic "Bouquet of Roses."
The country crooner was also a musical maverick, finding a way to keep the hits happening in changing times.
"I got to thinking I like violins. I believe that I could take the same kind of song I'm doing and add the violins and it will obviously make me reach a wider audience," Arnold said
Hits like "Make the World Go Away" followed Arnold's musical change, and his audience never went away. In 2005, at the age of 87, he put out his last album. The album had a reflective song called "To Life."
"I've had a career that I've never in my wildest dreams thought I would have. To have this kind of career, this kind of life, is a dream that I wish every young man could have. I really do," Arnold said.
Arnold was inducted into the Country Music Hall of Fame in 1966. The following year he won Entertainer of the Year. He was also awarded the National Medal of Arts in 2000, and given a Lifetime Achievement Grammy in 2005.
Arnold lost his wife of 66 years in March 2008.