Buzzie Bavasi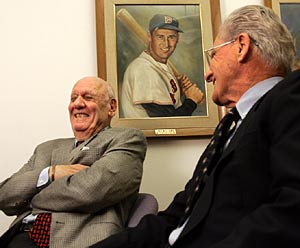 posted 2008-05-02 11:45:35 by mike





LOS ANGELES (AP) - Buzzie Bavasi, who built Dodgers teams that won four World Series titles in Brooklyn and Los Angeles, died Thursday at his home in the La Jolla area of San Diego. He was 93.
Emil Joseph Bavasi - nicknamed Buzzie by his family for the way he buzzed around as a kid - helped put together Dodgers teams included future Hall of Famers Jackie Robinson, Duke Snider, Pee Wee Reese, Roy Campanella, Sandy Koufax and Don Drysdale.
As an executive in the Dodgers' minor league system, he helped Robinson, Campanella and Don Newcombe through their often difficult integration into professional baseball. Robinson went on to break the major league color barrier.
Bavasi later was part owner and president of the San Diego Padres, then became executive vice president of the California Angels.
He spent 44 years working in baseball, including 34 in the major leagues. He began as a traveling secretary and publicity director for the Dodgers in Brooklyn in 1939.