Cameron Argetsinger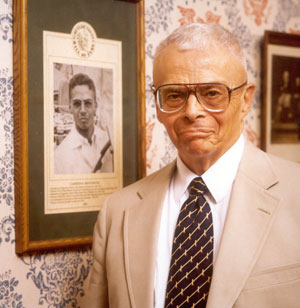 posted 2008-04-24 13:39:40 by mike





WATKINS GLEN, N.Y. (AP) - Cameron Argetsinger, who started the road-racing tradition at Watkins Glen 60 years ago and helped lure Formula 1 to race there for two decades, has died. He was 87.
Argetsinger, a local lawyer who also served as president of the International Motor Racing Research Center for five years, died Tuesday at his Seneca Lake home in Burdett, N.Y., said Glenda Gephart, director of communications at the research center.
Inspired by his love of fast automobiles and the natural beauty of the Finger Lakes, Argetsinger, an early member of the Sports Car Club of America, proposed an amateur road race called the Watkins Glen Grand Prix to the local chamber of commerce in 1948.
The chamber liked the idea, and Argetsinger selected a 6.6-mile course using mostly paved roads with a short dirt and gravel stretch, and obtained sanction for the inaugural event. In that first race, he drove his MG-TC to a ninth-place finish and remained active as a driver through 1960.
Argetsinger, a native of Youngstown, Ohio, brought full international races to Watkins Glen in 1958 and in 1961 the inaugural U.S. Grand Prix was run.
The course is now a regular stop on NASCAR's top circuit.
A strong voice for international and professional road racing during a period in the 1950s and early 1960s, Argetsinger received the Grand Prix Drivers Association award for the best-organized Grand Prix in the world.
After leaving Watkins Glen in 1970, he was executive vice president of Chaparral Cars and served as director of professional racing and executive director for SCCA from 1971-77. He also served as commissioner of the International Motor Sport Association from 1986-92.