Cecilia Colledge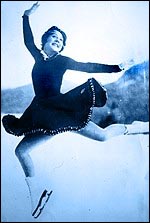 posted 2008-04-24 13:37:23 by mike





BOSTON (AP) - Cecilia Colledge, an innovative figure skater who was the youngest athlete to compete in the Winter Olympics, has died. She was 87.
Colledge died April 12 at Mount Auburn Hospital in Cambridge, Mass., said Ben Wright, vice president of The Skating Club of Boston where Colledge was a teacher for nearly four decades.
Colledge was 11 years and 3 months old when she competed for her native Britain in the 1932 Winter Olympics in Lake Placid, N.Y.
She won a silver medal at the 1936 Olympics in Germany, second to Sonja Henie.
She was world champion in 1937, British champion five times and European champion on three occasions.
Colledge was the first woman to execute a double jump (a salchow) and is credited with inventing the camel and layback spins and the one-foot axel jump.
She moved to the United States to coach and was a full-time teacher at The Skating Club of Boston from 1952 until 1977, and continued coaching part-time until 1990, Wright said.
She was inducted into the World Figure Skating Hall of Fame in 1980.