The Mother of Jamaican Music Legend Bob Marley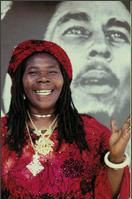 posted 2008-04-11 08:59:35 by grendel





KINGSTON, Jamaica (AP) — Cedella Booker, the mother of Jamaican music legend Bob Marley, died Tuesday. She was 81.
Booker died in her sleep at her home in Miami, apparently from natural causes, family spokesman Jerome Hamilton said.
Booker, a Jamaica native, was 18 when she married Norval Marley, a British man 32 years her senior. Their son brought Jamaican reggae music to international prominence, becoming its international image. Bob Marley died in Miami of a brain tumor in 1981 at age 36.
After Norval Marley died in 1955, Booker married an American man and settled in Delaware. She wrote two biographies of her famous son and recorded two albums, "Awake Zion!" and "Smilin' Island of Song."