Hank Aaron's Mother Estella Dies at 96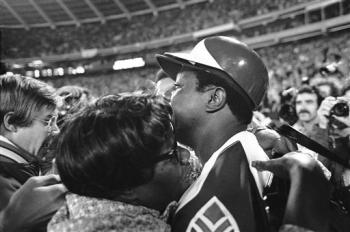 posted 2008-04-09 12:41:27 by grendel





ATLANTA (AP) — Estella Aaron, the mother of baseball Hall of Famer Hank Aaron, has died. She was 96. Susan Bailey, assistant to the former Atlanta Braves star, said Tuesday she died Monday in an Atlanta hospital after a short illness.
The funeral will be Saturday at Greater Morning Star Baptist Church in Mobile, Ala., the city where she lived most of her life.
Estella and Herbert Aaron had eight children, including Henry and Tommie, who also played for the Milwaukee and Atlanta Braves and died in 1984.
Henry Aaron broke Babe Ruth's career record of 714 home runs with his 715th on April 8, 1974 — 34 years ago Tuesday — at Atlanta-Fulton County Stadium. He retired with 755, a mark surpassed by Barry Bonds of the San Francisco Giants last August.