Bob Dunnavant Sr.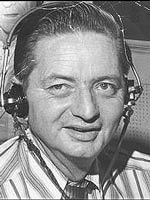 posted 2008-04-08 18:25:17 by mike





ATHENS, Ala. (AP) - Bob Dunnavant Sr., a pioneer in Alabama broadcasting who made his name among the Grand Ole Opry crowd, died Saturday after a long illness. He was 85.
His death was announced by his son, Keith Dunnavant.
The elder Dunnavant had a large following as a country music personality. At the Opry, he worked closely with various Nashville artists, forming a partnership with Ernest Tubb for the weekly "Ernest Tubb Jamboree" in 1957.
In 1956, Dunnavant formed the Multi-Voice Network and began hosting the daily radio program "Contact Alabama," a cooperative venture among more than a dozen stations.
The company Dunnavant founded was sold to Cumulus Media for $22 million in 2003.