Wayne Frost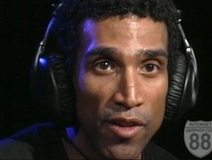 posted 2008-04-04 10:01:52 by grendel





NEW YORK (AP) — Wayne Frost, a hip-hop pioneer known as "Frosty Freeze" whose acrobatic performance with the legendary Rock Steady Crew in the 1983 hit movie "Flashdance" set off a worldwide breakdancing craze, died Thursday. He was 44.
Frost died after a long illness, said Jorge "Fabel" Pabon, a senior vice president of the crew where Frost and other so-called b-boys (for beat or break boys) made their name performing complicated and daring dance routines.
Breakdancing emerged from the Bronx and Harlem in the early 1970s, part of the hip-hop culture that also included graffiti, MCing or rapping, and disc jockeys scratching and mixing vinyl records on turntables.
During extended pauses, or breaks, in the music, b-boys would mimic James Brown's showmanship and footwork and Bruce Lee's martial arts, adding their own signature moves.
Frost was known for his energetic style, intricate choreography and fearless moves including back flips and head spins. One was even dubbed the "Suicide."
Frost got his start in 1978 with the Bronx-based Rock City Crew. In 1981, he became part of the Rock Steady Crew, joining such acclaimed breakdancers as Ken Swift and Lil Crazy Legs.
Frost toured the world with the Rock Steady Crew and other hip-hop artists, including Fab 5 Freddy, Futura 2000 and Kool Lady Blue.
As a member of the Rock Steady Crew, Frost also appeared in several movies on hip-hop culture, including "Wild Style," "Beat Street" and "Style Wars." He also appeared on the cover of the Village Voice in 1981.