Angus Fairhurst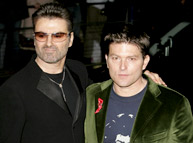 posted 2008-04-02 16:27:44 by mike





LONDON (AP) - Angus Fairhurst, one of the group of "Young British Artists" who stormed the international art scene in the 1990s, has died, a spokeswoman said Monday. He was 41.
Erica Bolton said Fairhurst committed suicide Saturday during a walk in a remote part of Scotland.
Born in 1966 in Penbury, southern England, Fairhurst studied at London's Goldsmiths College in the 1980s, where his contemporaries included Damien Hirst, Gary Hume and Sarah Lucas.
They and their work - first exhibited in the 1988 exhibition "Freeze" - were central to the group of provocative and playful young artists. Patronage by collector Charles Saatchi and intense media attention brought riches and fame to several of the group, notably Hirst and Tracey Emin.
Fairhurst had a lower profile, but his paintings, sculptures and installations were exhibited around the world.
His work was included in the 2000 "Apocalypse" exhibition at the Royal Academy. In 2004, Fairhurst, Lucas and Hirst collaborated on the "In-A-Gadda-Da-Vida" show at Tate Britain.
Fairhurst's last show was at London's Sadie Coles gallery last month.
Fairhurst "made some of the most engaging, witty and perceptive works of his generation and was an enormously influential friend of other British artists who came to prominence in the early '90s," said Tate director Nicholas Serota. "We shall all miss him greatly."
Hirst said Fairhurst was "a great artist and a great friend."
"He always supported me, in fair weather and foul, he shone like the moon and as an artist he had just the right amount of slightly round the bend," Hirst said. "I loved him."
Fairhurst is survived by his mother, Sally, and brother, Charles.