Sean Levert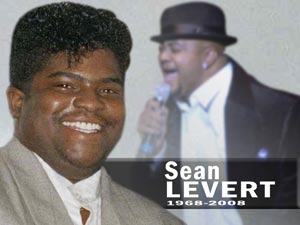 posted 2008-04-02 16:24:59 by mike





CLEVELAND (AP) - Singer Sean Levert, a third of the 1980s R&B trio LeVert and son of lead O'Jays singer Eddie Levert, has died after falling ill while serving a jail term. He was 39.
Levert was sent to the Cuyahoga County jail last week for failing to pay child support. He died at Lutheran Hospital in Cleveland late Sunday, less than an hour after he was taken there from the jail, said coroner Frank Miller. An autopsy was planned, he said.
His brother Gerald Levert, who had success as a solo artist after leaving their trio died in 2006 at age 40 of an accidental mix of prescription and over-the-counter drugs.
The brothers had formed LeVert in the 1980s with childhood friend Marc Gordon. Their hits included and "Baby I'm Ready," "(Pop, Pop, Pop, Pop) Goes My Mind" and "Casanova."
"Casanova" was nominated for a Grammy in 1988 for best R&B performance by a duo or group with vocal. It was also nominated for best R&B song.
At Gerald Levert's funeral service in November 2006, Sean Levert and his father performed "Dance With My Father" and personalized the words for Gerald. The elder Levert's group, the O'Jays, was known for such smash hits as "Back Stabbers" and "Love Train."
Sean Levert found a new third partner last year and was trying to revive LeVert.
Warden Kevin McDonough said Levert had been sick and guards were watching him at the jail's regular cellblock because he had been acting strangely. He declined to be more specific about Levert's medical condition.
Levert suffered from high blood pressure and had been hallucinating in jail, Caesar said. Toxicology reports could take four to six weeks, he said.
Sean Levert had pleaded guilty last week to six counts of nonsupport involving children ages 11, 15 and 17.