Abby Mann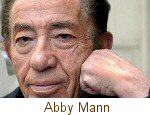 posted 2008-03-28 14:13:53 by grendel





LOS ANGELES (AP) - Abby Mann, writer of socially conscious scripts for movies and television and winner of the 1961 Academy Award for adapted screenplay for "Judgment at Nuremberg," has died at 80.
Writers Guild of America spokesman Gregg Mitchell said Mann died Tuesday. The cause of death was not given.
Mann also won multiple Emmys, including one in 1973 for "The Marcus-Nelson Murders," which created a maverick New York police detective named Theo Kojak. The film, starring Telly Salavas, was spun off into the long-running TV series "Kojak."