Ben Carnevale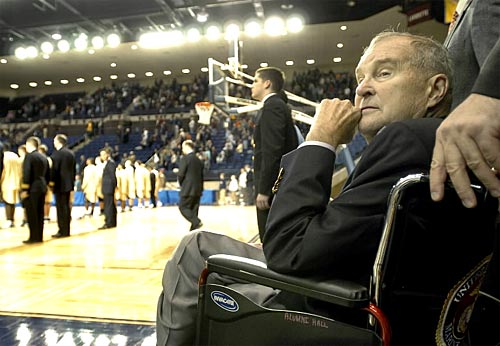 posted 2008-03-27 13:53:40 by mike





WILLIAMSBURG, Va. (AP) - Ben Carnevale, the longtime Navy basketball coach who later headed the U.S. Olympic Basketball Committee, has died. He was 92.
The Naval Academy released a statement from Carnevale's family, announcing his death Tuesday. No cause was released. He had been living in Williamsburg.
Carnevale, born in Raritan, N.J., played for New York University and was a member of the 1935 national championship team. He also played in the first National Invitation Tournament in Madison Square Garden in 1938.
He played professionally with the Jersey Reds of the American Basketball League and served in the Navy during World War II, earning the Purple Heart.
In 1944, he became coach at North Carolina. The Tar Heels went 52-11 in his two seasons with them and played in the NCAA national title game in 1946, losing 43-40 to Oklahoma A&M.
He took over at Navy in 1946 and over the next 20 seasons became the school's winningest basketball coach. The Midshipmen went 257-160 and made six postseason tournament appearances under Carnevale, despite not allowing players to be taller than 6-foot-5.
He became athletic director for NYU in 1966 and held the job for six years. He also was athletic director at William & Mary from 1972-82.
He retired from William & Mary, but helped organize the Colonial Athletic Association and served as commissioner for the league.
He was the chairman of the United States Olympic Basketball Committee from 1964-68 and was a committee member for 20 years.