Paul Raymond, the king of the Soho sex trade, dies aged 82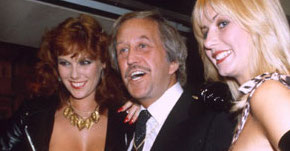 posted 2008-03-04 11:41:32 by grendel





He was called the "King of Soho": a multimillionaire pornographer loved and loathed in equal measure for his entrepreneurial commitment to all things erotic and insalubrious.
Paul Raymond, who died yesterday at the age of 82, was credited with revolutionising attitudes towards the sex industry during a career which spanned more than half a century and saw him rise from childhood poverty to amass a vast property and publishing empire worth an estimated £650m.
A mild and avuncular figure in person, Raymond's career attracted widespread opprobrium and became a symbol of Britain's apparent decline into lasciviousness. He defended it as the work of an honest bon viveur, a man whose job it was to match supply with demand. To his detractors – and there were many – that was precisely the problem.
Yesterday tributes were paid to the man who brought the first striptease to Britain. Mark Fuller, owner of Mayfair's Embassy nightclub, said: "Paul was a great mentor of mine. He will be sadly missed."
Born Geoffrey Anthony Quinn in November 1925 and swiftly abandoned by his philandering father, an Irish haulage contractor based in Liverpool, Raymond moved to Glossop in Derbyshire at the outbreak of war, where he was raised by his mother, grandmother, and three aunts. Educated by the Christian Brothers, he dropped out of school at 15. Years later he would boast of never having a read a book.
To avoid military service – bending the law without breaking it would be the making of him – he volunteered to work as a Bevin Boy in the mines, an effort which lasted a week. Two years later the police found him, but he again avoided prison, serving briefly in the RAF as a bandsman.
After adopting the stage name Paul Raymond, he toured sparsely attended northern halls, giving variety performances that returned little or no income.
All that changed when he introduced two tap dancers to his routine. A ruling by the Lord Chancellor forbade any nudes moving on stage, so to comply with it Raymond placed women on podiums which were wheeled across stage while they remained stationary. It was genius – and legal.
But it was his leasing of the Doric Ballroom in Soho – later renamed the Revuebar and the first venue in Britain to stage live striptease shows – in 1958 that would ensure his star's ascent. By designating it a private club rather than a theatre he was able to circumvent the law without breaking it yet again – this time with revolutionary results. More than 45,000 members signed up within two years, many of them at the club door, and its neon sign reading "Striptease" would become a landmark.
Notoriety came immediately. Within the first two years, police raided the premises repeatedly. Revuebar regulars Bonnie Bell the Ding Dong Girl and Julia Mendez the Snake Girl soon fell foul of a judge, who labelled the venue "filthy, disgusting, and beastly" before ordering Raymond to pay a fine of £5,000 for keeping a disorderly house.
But the genie was out of the bottle, and Raymond – by now a fixture in the tabloid press – used his swelling income to launch hugely profitable top-shelf magazines including Men Only, Razzle, King, Club International and Escort.
Well over 6ft tall, and sporting a fake tan, Raymond was never far from the glitz of London's social scene. A lifelong Catholic, his neck would always be adorned by a gold cross, while his chauffeur drove a golden Rolls-Royce. He took advantage of a slump in property prices at the end of the Seventies to buy freeholds in Soho, promising to convert it into a new Covent Garden. Rumour has it that he died with 60 of Soho's 87 acres to his name.
His holdings are thought to include freeholds of Soho House, Ronnie Scott's Jazz Club, Sugar Reef and the Whitehall and Windmill theatres. In the late Sixties he converted the latter to a dining theatre, La Vie En Rose.
In later years, commercial success coincided with family failure. His marriage to Jean Bradley, a nude dancer, was dissolved in 1974 after an affair with Fiona Richmond, an acress in risqué films and plays. He invested increasing responsibility for his business in his daughter Debbie. But in November 1992, after two failed marriages, she died aged 36, after extensive alcohol, cocaine and heroin abuse.
Raymond never truly recovered from her loss. Inhibited by deteriorating health, he became a recluse in a penthouse next to the Ritz Hotel in London. The battle over his vast fortune will now begin.