Mike Smith, Lead Singer of Dave Clark 5, Is Dead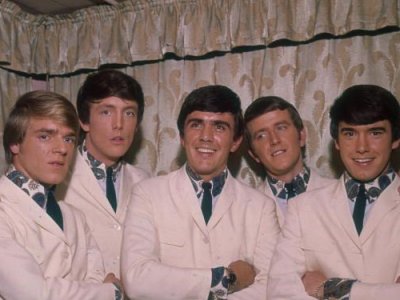 posted 2008-02-29 07:52:07 by beth





Mike Smith, the lead singer of The Dave Clark Five, died Thursday outside London, less than two weeks before the band is to be inducted into the Rock and Roll Hall of Fame. He was 64.
The cause was pneumonia, a complication of a spinal cord injury he sustained in 2003 that had left him paralyzed below the ribs, according to Margo Lewis, his agent in New York.
The Dave Clark Five, part of the so-called British Invasion of the early 1960s, recorded a string of hits including "Glad All Over," "Catch Us If You Can" and "Over and Over." The band made 12 appearances on the Ed Sullivan Show by 1966. Mr. Smith also played keyboards and helped write songs for the band, which was founded by its drummer, Dave Clark.
In 2006, he told the British newspaper The Daily Mail that he had injured his spinal cord when he fell while climbing over a locked seven-foot-high garden gate behind his home in the Costa del Sol region of Spain.
Mr. Smith had been in a hospital outside London since shortly after the accident and was released in December. He had been living near the hospital when he was admitted again on Wednesday, Ms. Lewis said.
After his accident, Mr. Smith drew support from, among others, Bruce Springsteen, Steve Van Zandt and Peter Noone of Herman's Hermits, who helped to defray medical costs through donations and fund-raisers.
In 2005, Paul Shaffer, the "Late Show With David Letterman" bandleader, helped to organize a benefit concert in New York featuring many of Mr. Smith's fellow British Invasion stars, including The Zombies and Peter & Gordon. A DVD of the concert is to be released in March.
Michael George Smith was born in 1943 in Edmonton, England. He is survived by his wife, Arlene, who is known as Charlie.
After the Dave Clark Five disbanded in 1970, Mr. Smith performed for a time in a new band with Mr. Clark but worked mainly as a producer and songwriter. He began performing again in the 1990s and had formed a new band, "Mike Smith's Rock Engine," when he was injured.
Before his death, preparations were under way to transport Mr. Smith to New York so that he could attend the Hall of Fame induction ceremony on March 10, Ms. Lewis said. Besides Mr. Smith and Mr. Clark, the band included Lenny Davidson on lead guitar, Rick Huxley on bass guitar and Denny Payton on saxophone, harmonica and guitar.