Buddy Miles, Drummer and Hendrix Collaborator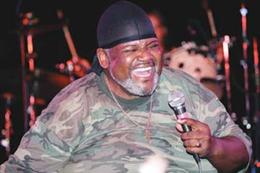 posted 2008-02-28 11:17:47 by dmcnelis





Drummer/vocalist Buddy Miles, known for his work with Jimi Hendrix and a performing career that spanned nearly five decades, passed away at his Austin, Texas home yesterday, February 26, according to his official website [via Billboard.com]. He was 60.
Born September 5, 1947 in Omaha, Nebraska, Miles began playing music with his father's band the Bebops at age 11. He went on to work with the Delfonics, the Ink Spots, Wilson Pickett, and Electric Flag before contributing to the Jimi Hendrix Experience's seminal Electric Ladyland LP and co-founding the short-lived Band of Gypsys with Hendrix and bassist Billy Cox.
Miles also performed with David Bowie, Stevie Wonder, Muddy Waters, George Clinton, Barry White, Bootsy Collins, and Carlos Santana over the years, releasing or appearing on some 70 albums in all. Drug charges in the late 1970s and 1980s led to some jail time for Miles. He remerged later in the 80s as the voice behind the California Raisins television commercials, and continued releasing albums into this century.
Just prior to his death, Miles had toured to help raise money for Children's Craniofacial Association and various hurricane/disaster relief funds.
The following statement was posted to Miles' website following his death:
It is with tremendous sadness that we must share with all Buddy's fans around the world that Buddy passed away peacefully and quietly at his home last night (Tuesday, February 26, 2008) in Austin, Texas surrounded by his family. Buddy will be greatly missed as a wonderful person and as a truly gifted musician who gave so much to so many through the years.
The family ask for your prayers and that you respect their privacy. A tribute show will be announced within a short period of time and all are welcome to come and share in the magic that was Buddy Miles.
Fans, friends and family will all join in a celebration of the life and music of this talented and big hearted musician, so we hope everyone can be a part of this fond farewell.
God Bless each of you, Buddy truly appreciated EACH AND EVERYONE OF YOU.