Legendary broadcaster Myron Cope dies at 78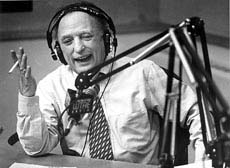 posted 2008-02-27 09:37:05 by doug





Myron Cope, colorful sports broadcaster and reporter whose Terrible Towel remains the banner of the Steelers nation, has died.
In declining health since even before his 2005 retirement after a record 35 raucous years in the Steelers broadcast booth, Mr. Cope died this morning.
He was 78.
One of the last of the great sports characters, Mr. Cope's life and career were nothing less than book-worthy, even if he had to write it himself. Twice.
"Double Yoi" it was called both times, the second an updated version of the original 2002 volume, the title immortalizing one of Cope's signature exclamations, which, along with "Okle-dokle," "Dumbkopf!", and "How do?", became so familiar to his radio and TV audiences.