Pere Ubu guitarist Jim Jones dies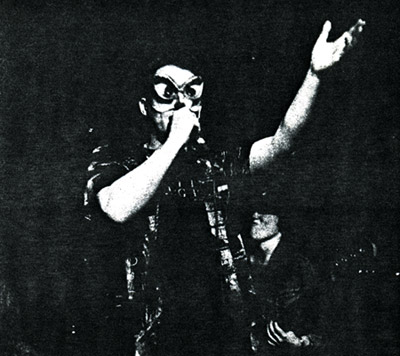 posted 2008-02-20 08:49:06 by doug





Pere Ubu guitarist Jim Jones died late Monday night. Details have not been released, but he'd been ill for years. Health problems lead him to leave the Cleveland post-punk band in 1996, and his condition had deteriorated, though friends say he'd looked good over the last year.
"Jimmy was the one guy who always got along with everybody," says John Thompson, the former Discodrome record-shop owner, who was also part of Ubu's tour support. "Everybody in the music scene knew him and loved him."
Before - and after -- he joined Ubu, Jones was part of the Cleveland music scene, as a clerk at record stores including Record Rendezvous at 3rd and Prospect, the shop where the term "rock and roll" was coined, according to legend. As the store's buyer, the lifelong music fanatic helped turn the city on to imported arty bands like Roxy Music and Can.
Ubu's David Thomas, a famously prickly character, took a liking to Jones and invited him to be a part of the Ubu machine before he joined. Jones toured with the band, selling merchandise and moving gear.
Jones' encyclopedic knowledge of music made him a reliable riff-writing machine and versatile multi-instrumentalist. His period recording with Ubu -- the five original, major-label records from 1988's The Tenement Year to 1995's Ray Gun Suitcase -- is considered the band's most accessible material, and Jones' melodies often receive chief credit for that fresh quality.
"He was a really excellent guitar player," says Numbers Band frontman Robert Kidney.
Jones stopped touring with Ubu in 1995, and went on to play arty disco in Foreign Bodies, punk in Easter Monkeys, and ambitious rock with Home and Garden (with other former members of Pere Ubu). He was one of the first artists that helped establish Collinwood as a vital creative area.
"If one person had lost touch with another person, Jimmy knew where to find him," recalls Thompson. "He'd been around for a long time in the music scene - my wife says he was an anchor. He served as collaborator, mentor and general landmark for many other bands here."
Click the video for a clip of Ubu performing "Oh Catherine" on Letterman in 1989. Jones is the guitarist in the white shirt and dark pants. Even if you don't know the man or his work, you'll miss him by the time the song's over.