Former Oiler Grimsley found shot to death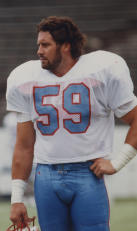 posted 2008-02-07 08:44:59 by grendel





MISSOURI CITY — Former Houston Oiler linebacker John Grimsley was found dead today in his home from an apparent gunshot wound.
Police responding to a 911 call at a home in the 3600 block of Robinson discovered the body shortly after 9 a.m., said Missouri City spokeswoman Barbara Brescian.
Brescian said the shooting appears to be accidental. No other details about the incident were immediately available.
Fort Bend County Justice of the Peace Joel Clouser ordered an autopsy, which the Galveston County Medical Examiner's Office will perform.
Grimsley, 45, played for the Oilers from 1984 through 1990 and for the Miami Dolphins in 1992 and1993.
Grimsley, from Canton, Ohio, went to the University of Kentucky and was drafted by the Oilers in the sixth round of the 1984 draft.
"I can't believe it; I just can't believe it,'' said Tennessee Titans scout Johnny Meads, a former Oilers linebacker who was drafted two rounds ahead of Grimsley. "John and I roomed together at the scouting combine and came to the Oilers together. I'm stunned.''
"It's a shock to all of us,'' said former Oilers linebacker Gregg Bingham. Bingham said he has known Grimsley for years and lived down the street from him."Our kids grew up together,'' he said.
"He was just a good-natured guy who was an avid hunter. He's used to having guns around, and that might have got him in trouble. It's easy to get complacent when you're handling them all the time.''