Gatorade inventor Dr. Robert Cade dead at age 80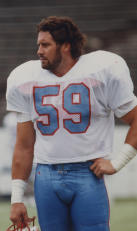 posted 2007-12-10 11:34:48 by grendel





Pick a flavor — Rain, Frost, Lemon-Lime, Fierce, AM, Xtremo — and drink a toast today to Dr. Robert Cade, inventor of the concoction once nicknamed "Cade's Cola" and now known as Gatorade.
Cade died Tuesday in Jacksonville, Fla., from kidney failure, according to officials at the University of Florida, where he and three colleagues invented the billion-dollar sports drink industry in the mid-1960s. He was 80.
Much as Cade began his career at Florida as a relatively anonymous researcher and ended it as the star of a TV commercial — he's the one who says "We called our stuff Gatorade" on the company's ad narrated by sports announcer Keith Jackson — Gatorade has morphed from local curiosity to worldwide juggernaut, said CNBC anchor Darren Rovell, author of First In Thirst: How Gatorade Turned the Science of Sweat into a Cultural Phenomenon.
"Nike does $14 billion in sales, and that is for every single thing it does from shoes to apparel," Rovell said. "Gatorade is a singular item, and it does $5 billion in sales. It's probably the second most-relevant brand in all of sports."
Cade and three colleagues developed Gatorade in 1965 to help the Florida Gators football team replace carbohydrates and electrolytes lost through sweat while playing in the swamp-like heat of Gainesville, Fla. The first batch cost $43 in supplies, and "sort of tasted like toilet bowl cleaner," Dana Shires, one of Cade's collaborators, told the Associated Press.
Researchers added sugar and lemon juice for flavor, and they left the rest to the likes of Steve Spurrier, the Florida quarterback who won the Heisman Trophy in 1966 while being fueled by Gatorade.
"The invention was great, but it needed the Florida Gators as a vehicle," Rovell said. "There had been other sports drinks available, but this was the perfect storm with Steve Spurrier and a good football team."
Cade and his collaborators were enmeshed in a legal dispute in the late 1960s and early '70s over rights to the Gatorade brand. The dispute was settled by awarding the university a 20 percent share of royalties, which to date total about $100 million. Gatorade today is marketed by Quaker Oats, a division of PepsiCo Inc.
A native of San Antonio and a Navy veteran, Cade graduated from the University of Texas at Austin and the University of Texas Southwestern Medical School in Dallas. He practiced in Missouri, New York and in Dallas before moving to Florida in 1961. His research specialties included kidney disease, hypertension, exercise physiology, autism and schizophrenia.
He continued to work for the university until retiring at age 76 in November 2004 and was inducted in April into the university's athletics hall of fame.
Rovell, who while on vacation in Aruba raised a bottle of Gatorade — the wild berry Fierce flavor — in Cade's honor, described him as "the ultimate eccentric guy. He loved playing the violin, and he collected Studebaker cars. He became a rich man, but he always lived in the same ranch-style house.
"When you would ask him what he was most proud of, he wouldn't say, as you and I might, that he saw his invention every time he walked into a 7-Eleven or attended a sports event. He would talk about how Gatorade helped cure diarrhea-related diseases in Third World countries. He would always have some strange twist to talk about regarding the invention of Gatorade."
Rovell said he never asked the inventor what he thought about the modern sports cliché of Gatorade showers delivered to winning coaches but said, "He probably would have said, 'What a waste!' "