Ian Smith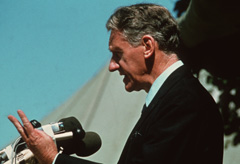 posted 2007-11-25 13:45:48 by grendel





HARARE, Zimbabwe (AP) — Ian Smith, Rhodesia's last white prime minister whose attempts to resist black rule dragged the country now known as Zimbabwe into isolation and civil war, has died. He was 88.
Smith, who recently suffered a stroke, died Tuesday at a clinic near Cape Town, South Africa, where he spent his final years with his family, said longtime friend Sam Whaley, who was a senator in the former Rhodesia.
Smith unilaterally declared independence from Britain on Nov. 11, 1965. He then served as the prime minister of Rhodesia from 1965 to 1979 during white minority rule.
The country failed to gain international recognition, and the United Nations imposed economic sanctions. He finally bowed to international pressure, and Robert Mugabe's Zanu-PF party won elections in 1980.
To many white Rhodesians, he was "good old Smithy." To most blacks, his rule symbolized the worst of racial oppression.
Smith had imprisoned Mugabe in 1964 for 10 years, calling him a "terrorist" intent on turning the country into a one-party dictatorship.
Despite their bitter differences, Smith and Mugabe shared one common bond — their deep dislike of Britain, which they saw as a meddling colonial power.
Smith was born to Scottish immigrants in western Rhodesia on April 8, 1919, but renounced his claims to British citizenship in 1984.