Victor Rabinowitz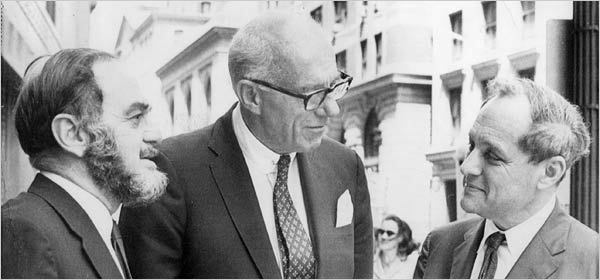 posted 2007-11-22 23:54:11 by grendel





NEW YORK (AP) — Victor Rabinowitz, a lawyer who represented leftist causes and clients such as Alger Hiss, the Black Panthers, Fidel Castro and Weather Underground member Kathy Boudin, has died. He was 96.
Rabinowitz died Friday at his Manhattan home, his longtime law partner, Michael Krinsky, said Tuesday.
In a 1996 memoir, "Unrepentant Leftist," Rabinowitz said that he had been a member of the American Communist Party from 1942 — when the United States and the Soviet Union were wartime allies — until the early 1960s because it seemed the best way to fight for social justice.
Rabinowitz was the last attorney for Hiss, the American diplomat accused of spying for the Soviet Union and ultimately convicted of perjury in 1950 in one of the postwar era's most famous espionage cases.
Rabinowitz began his career at the firm of Louis Boudin, a labor lawyer involved in radical politics. Rabinowitz opened his own practice in 1944 and Boudin's nephew, Leonard Boudin, joined him three years later. They worked together until Leonard Boudin's death in 1989.
Rabinowitz eventually represented Leonard Boudin's daughter Kathy, a member of the student radical group Weather Underground who pleaded guilty to murder for her involvement in a 1981 armored truck heist. She served more than 20 years in prison.
The firm's other clients included such liberal activists as singer Paul Robeson, Dr. Benjamin Spock, the Rev. Philip Berrigan, Pentagon Papers figure Daniel Ellsberg and civil rights leader Julian Bond.
In 1960, Rabinowitz's firm was hired by Castro to defend the Cuban government's nationalization of U.S.-owned property. Rabinowitz won by arguing that U.S. courts should not question the internal affairs of other countries.